DOH / HAAD Dermatology Exam MCQs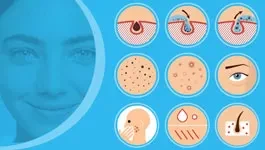 200+ best questions
Great dermatology source
Exam style questions
Competitive self-assessment
DOH/HAAD Dermatology Exam
Department of Health (DOH) Abu Dhabi monitors this dermatology specialty Pearson Vue exam, to attract best dermatologists from around the world. Their written or oral exam ensures that candidate must possess required knowledge and skills to be able to legally practice in the Emirate of Abu Dhabi.
United Arab Emirates (UAE) as a whole and Abu Dhabi more specifically is actively setting itself as a hub of best dermatologists from around the world. They provide variety of services ranging from skin conditions to many complex issues related to dermatological disorders.
This written exam typically contains MCQs related to various areas of dermatology, including cosmetic and medical dermatology, and procedural skills. Each question evaluates theoretical and clinical knowledge with a clinical scenario, where candidate is required to select the one correct answer.
Dermatology Study material / Qbank
Self assessment made easy for this dermatology exam through our Qbank (Question Bank). This will help you sharpen your knowledge and skills for dealing with the questions you might face during your actual exam. You may subscribe for DOH Dermatology Qbank, that may help you to pass this exam.